Sanctuary Policies: An Overview
Welcome! Our goal with this site is to share some best practices and provide ​legal contexts to help make our towns, cities and campuses more welcoming homes for all, especially for our undocumented immigrant neighbors.
The Migration Policy Institute estimates that there are 105,000 unauthorized people living in Connecticut, 3% of the state's 3.5M total. The American Immigration Council estimates that unauthorized immigrants comprised roughly 5.1% of the state's workforce and contribute over $135 million dollars in state and local taxes.
We hope to live in communities that are united by love and inclusion and not divided by hate and discrimination. In the wake of the recent presidential election, many Connecticut residents now live in fear of deportation. President Trump's proposed policies threaten to end sanctuary cities, triple the number of Immigration and Customs Enforcement (ICE) agents, and terminate Deferred Action for Childhood Arrivals (DACA).
Please contact us if you have any suggestions for this site, including updated and new, related information. Also, please let us know if you would like to add your immigrant advocacy/resource organization to the Organize Your Community page! 
 Factsheet on Sanctuary Cities "Sanctuary" Policies: An Overview 
"Sanctuary" Policies: An Overview" answers many important questions about sanctuary policies. Find out what are sanctuary cities, how do they work to protect undocumented immigrants, how they operate with the federal government and ICE agents, and what are the benefits of living in sanctuary cities? (PDF File Available)
Welcoming Cities Info Packet
​Welcoming America is a network of municipalities, nonprofit organizations, civic and corporate partners dedicated to creating "welcoming communities" for undocumented immigrant families. Resources are provided to join this movement.
FAQs For U.S Immigration and Customs Enforcement (ICE)
U.S. Immigration and Customs Enforcement (ICE) and U.S. Customs and Border Protection (CBP) have made available Frequently Asked Questions (FAQs) to supplement existing guidance concerning enforcement actions at or focused on sensitive locations and clarify what types of locations are covered by these policies.
FAQ's: https://www.ice.gov/ero/enforcement/sensitive-loc.
Articles About Sanctuary Cities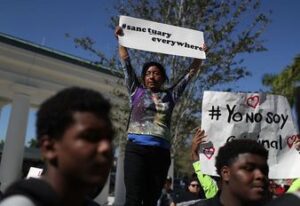 Article: Sanctuary Policies: An Overview
Date: October 21, 2020
Over the past several years, an increasing number of states, counties, and cities have adopted a variety of policies intended to engender a greater level of trust and cooperation between local law enforcement and communities with sizeable immigrant populations, regardless of immigration status. These policies include offering English-language classes; issuing municipal identification documents and driver's licenses to all residents; ensuring that immigrants have equal access to bail; establishing U-Visa policies to make it easier for victims of crime to obtain necessary documents from law enforcement agencies; and training criminal prosecutors and public defenders on the immigration consequences of convictions and plea deals.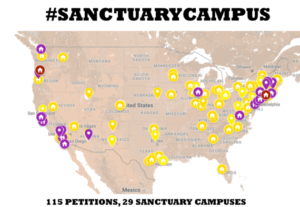 Article: "On Sanctuary: What Is In A Name?"
Author: Elliott Young
Date: November 30th, 2016
Young discusses the debates surrounding naming places like college campuses sanctuaries if it can be confusing or offer misleading information. Young argues that the importance of naming a place a sanctuary is more about the principle of solidarity than any legal practicality.
Article: "The Limits of Sanctuary Cities"
Author: Alex Kotlowitz
Date: November 23, 2016

Kotlowitz explains the origins of sanctuary cities in order to explain that its function today is different from the past, which means more limitations than people understand. Being a sanctuary city is not an act of subversion but attempts to hold its grounds in not complying with federal immigration services in order to protect undocumented immigrants who have not committed serious crimes.
Article: The Safety Of Sanctuary Cities And The Immigrant Revitalization Perspective
Date: October 16, 2020

Social science research debunks the justifications anti-immigrant policy makers use to support policies that encourage further deportation and detention of immigrants. Once a person convicted of a crime has served their time, they should be reunited with their families—not punished again with detention or deportation. In other words: policies of detention and deportation make our communities less safe; policies of welcoming and inclusion enhance everyone's safety. 
Article: What Is a Sanctuary City Anyway?
Date: August 16, 2020

Within his first week as president, Donald Trump signed an executive order denying federal funding to sanctuary cities. To answer educators' questions about sanctuary cities, Teaching Tolerance turned to an expert, Naomi Tsu. She's an attorney who oversees the Southern Poverty Law Center's Immigrant Justice Project.
 Article: Searching for Sanctuary An Analysis of America's Counties &Their Voluntary Assistance With Deportations
 
"The Immigrant Legal Resource Center (ILRC) supports local campaigns across the country to fight back against unfair detention and deportations and to protect immigrant rights. Our evaluation of the involvement of local law enforcement in deportations focuses on policies that allow immigrants to be safe, protect their right to remain here in their communities, and mitigate against the harsh immigration consequences of any interaction with the criminal legal system."
State Documents in favor of protecting the undocumented
Brizuela v. Feliciano | Brizuela filed a case against the Connecticut Department of Corrections for incarcerating persons solely based on an immigration detainer. As of 2013, the DOC has made changes to its policy such as not honoring immigration detainers unless under specific circumstances and releasing monthly data about detaining practices. Governor Malloy has also passed the CT Trust Act which extends Brizuela protections to those with an immigration detainer. ​Please click here to access this document. 
MALDEF: Immigrants Rights Under a Trump Presidency: FAQs for Students, Educators, and Social Service Providers | Advice on what undocumented immigrants can expect during the Trump administration. The FAQs cover questions concerning DACA, DAPA, removal proceedings, in-state tuition, filing for specific VISAs, interaction with the police or ICE, and more. Please click here to access this document.
​Enforcement Actions at or Focused on Sensitive Locations |An explanation of ICE enforcement actions in sensitive locations such as schools, churches, hospitals, or public ceremonies. Such searches are prohibited unless pre- approved by appropriate officials and the circumstances are urgent such as a national security threat, terrorism, death, or the risk of destruction. Please click here to access this document.
  ​Guidance Concerning Local Authority Participation In Immigration Enforcement And Model Sanctuary Provisions, January 2017 | New York's Attorney General, Eric Schneiderman, provides local governments and law enforcement agencies around the state with a legal roadmap for protecting vulnerable immigrant communities. Please click here to access this document.
A Legal Expert Explains Sanctuary Cities
Anna, a professor at the UCONN law school addresses four questions:
What is a sanctuary city and its limitations?
What is the Trump administration threatening to do about sanctuary cities?
Can they do that? 
​Are we alone?